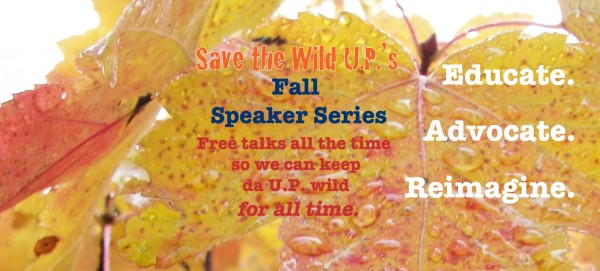 Check out our Fall Speaker Series! First up:
September 15th, 6:30 pm, Lydia M.Olson Library, Room 326
Booms & Busts: Survival in an Undermined Community with Dr. Michael Loukinen
Come to Olson Library, room 326 on Monday, September 15th at 6:30 pm to hear from professor of Sociology and documentary filmmaker, Dr. Michael Loukinen. Dr. Loukinen has been working on a documentary tracking the economic sinkholes left in our communities by the extractive industries.
Who is Lundin Mining? Learn more about Adolf Lundin, mines from Africa to Sweden, and what it means to "chase elephants"
On September 22nd, 7:30 pm, Olson Library rm 326, join researcher Andrew Lorinser for an in-depth look at Lundin Mining and the family behind this international conglomerate, based on Lorinser's groundbreaking research, "Chasing Elephants."
Join our Facebook event for updates and announcements on our speaker series!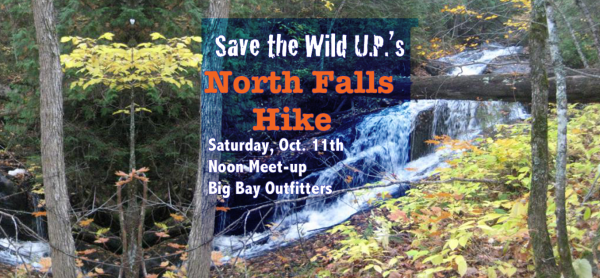 Explore the North Falls with Save the Wild U.P.!
Join us for an afternoon hike through the McCormick Tract Wilderness led by SWUP President, Kathleen Heideman on Saturday, October 11th. Located on the West Branch of the Yellow Dog River, the North Falls are an undiscovered treasure of Northern Marquette County. We'll see the colors of the forest transitioning to reds and golds all while observing the grand, gentle slope of the North Falls! This is a family-friendly event. Snacks, water and cameras suggested.
Meet us at the Big Bay Outfitters on Bensinger St. at 12:00 pm on Saturday, October 11th. From there, we'll carpool to the McCormick Tract Wilderness for the hike. Please, arrive early for carpooling–and to check out the awesome Big Bay Outfitters!
Email us at rsvp@savethewildup.org, or call (906) 662-9987 to reserve your spot on this great outing!
Stay up to date on news and more by joining our Facebook event!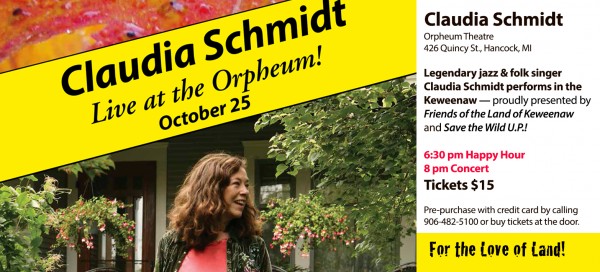 Legendary jazz and folk singer Claudia Schmidt will be performing at The Orpheum Theater in Hancock to benefit Save the Wild U.P. and FOLK Friends of the Land of Keweenaw.
Tickets at the door or in advance by credit card by calling (906) 485-5100.